MLA Research Paper Format: Ultimate Guide for Students
Do you know how to properly use MLA research paper format? If not, you're in the right place. Writing a research paper is a delicate and complex matter. You need to choose the right topic, ensure structure is proper, and reach your conclusions using facts and information you've gathered. In addition, you need to make it unique, innovative, and fresh. Your paper needs to contribute to your area of study and shed new light on research topic. However, none of it will be considered valuable or significant if you don't know how to format your paper.
Abbreviated for Modern Language Association, MLA writing style has a wide spectrum of usage. It's used in college research papers, dissertations, thesis, and other forms of academic writing. This article covers how you're supposed to use it for research paper writing. Below, you'll find our ultimate guide for an MLA research paper format.
What is MLA Format: Definition
Before we dig any deeper into how you're supposed to use MLA research paper format, let's first understand what it is. Here's what you need to know.
MLA (Modern Language Association) format is a style used in academic writing that specifies how to write a paper that can be considered credible, professional, and worthy of academic community. Specifically, it tells you:
how to cite the resources you've used
how to avoid being accused of plagiarism
Style is defined by clear guidelines you need to fully understand and apply without any exceptions. That is the only way to make your work solid and satisfactory.
Research Paper Formatting Basics
Formatting your research paper according to MLA style guide is not as difficult as you may think. Naturally, you need to know how to do it right and which basic steps to follow. That's why we're first going to cover formatting basics and move on to more complex steps later on.
Basic rules on how to do MLA format properly are following:
Use standard white 8.5 x 11-inch paper.
Make one-inch margins on all four sides.
Double-space your entire paper.
Indent the first word of every new paragraph by one-half inch.
Use a font that's easy to read (e.g. Times New Roman) and set the size to 12pt.
Leave one space after periods and other punctuation marks.
This is the bare minimum that you need to know by heart when it comes to writing MLA format. Adopt it as something that's not supposed to be altered. Once you master the basics, you can dive into more detailed instructions and requirements.
General Guidelines on How to Write in MLA Format
We've got the basics down, and now it's time to go over general guidelines. In other words, we'll go into greater detail on MLA format rules and what each of the rules stands for.
Let's discuss them one by one.
Font. It's very important that you use a font that's easy to read and allows the reader to focus on the content, not the aesthetics. Times New Roman or something very similar works great and is heavily recommended. Also, make sure the italics are different enough from regular font style so that reader may easily spot distinctions. Font size 12 is necessary.
Italics. Using italics in MLA formatting plays an important role. You should use it to indicate and highlight the titles of books, newspapers, dissertations, periodicals, databases, etc. Also, you're not supposed to use italics for emphasis, unless necessary.
Indenting Paragraphs. The first word of every new paragraph needs to be indented by one-half inch from the left margin. To do this the right way, just use the tab button instead of pressing space.
Double-Spacing. If you're asking is MLA format double spaced entirely, the answer is yes. Entire research paper you're writing needs to use double spacing, all through the work. That means you're not allowed to add more space for aesthetics, in places such as between the title and opening paragraph.
These are general guidelines that you need to follow, and now you know-how. Let's now inspect other important rules for writing an MLA research paper.
Format Header in MLA. Opening page of your research paper needs to be written according to specific MLA rules as well. Creating your header will require you to follow same rules for rest MLA research paper, but also apply some new ones. We'll teach you exactly how to format a research paper header properly and make sure you respect all requirements.
| Basics | Information to include |
| --- | --- |
| 1-inch margins | your full name |
| double-spacing | your professor's name |
| 12 point font | name of your course |
| left-aligned | date of paper submission (typical MLA date format is dd/mm/yy) |
All of this information will be on the left side of your paper while your last name and page number will be on the top right side of this and every other page of your paper. However, some instructors and mentors may ask you to omit the page number or do things differently. Always follow their instructions first. Here's an example of what it should look like:

Paper's title should be placed right below the due date, after a double-spacing. Do not create any more space between the two. Instructions further state that title should be placed center of the paper and written in standard font style and size. You shouldn't use italics, bold, or underlining in the title. You should use italics if title of paper contains name of another source, like in the example below.

After another double-spacing, begin with introduction of your research paper. If you're not sure how to start a research paper, learn more about writing an introduction. Look for a research paper template online to help you get the gist of it.
MLA Heading & Title Page
Sometimes, as a part of your research paper formatting, you'll be asked to create a separate, standalone title page different from the one we've described above. However, there are no official MLA guidelines for creating a standalone title page. Still, there's a standardized academic norm that we'll share with you. Information you'll include on your title page is:
name of your school
title and subtitle of your research paper
your name
your professor's name
name of your course
date of submission
Also, you'll be once again following basic MLA format principles we've covered above, in terms of font, spacing, and indenting.
Think of title page as cover page. Now, let's see what the MLA cover page format is. Here's what to do:
put your school's name on the top center of page
put your research paper title at page's center middle
use title case to write your title
place subtitle below title
place your name, your professor's name, your course name, and due date at the center bottom of the page
You can add or omit the header with your last name and page number, but you should consult your instructor for this decision.
Here's layout of research paper title page in MLA style.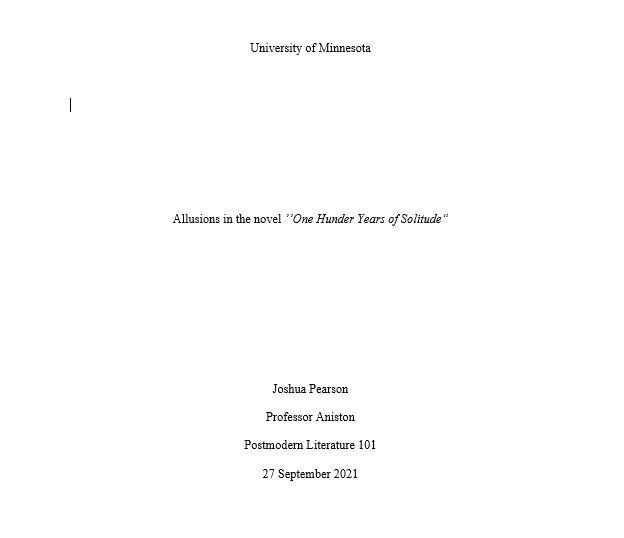 Follow these rules to create a standalone title page quickly and easily.
Quotations for MLA Format Essay
For your research paper to be solid and credible, you'll need to prove your arguments and support your claims. The best way to do this is to use other authors' findings and reference them in your work.
Naturally, if you're using someone else's ideas, you have to disclose them using quotations and citing. MLA style guide has a strict policy on how to use quotations and reference sources you're using, and you'll find them explained below.
Short in-text citation
A short quotation is one containing four or fewer lines of typed text.
If you're using an author's direct words in MLA format paper and repeating them in your research paper, you need to follow rules of in-text citation. Those imply that you put their words under quotation marks and specify who the original author is.
There are two ways to mention author: as a part of your sentence, or in parenthesis at the end of quotation. In both cases, specify number of page from original work where citation can be found. Provide all other information about this author and work on the Works Cited page.
Here are examples in accordance with MLA format requirements:
We can see that the allusions are not here by accident and that ''Márquez primarily uses allusion to create a strong bond between himself and the reader'' (White, 166).
White also implies that ''Márquez primarily uses allusions to create a strong bond between himself and the reader'' (166).
Long in-text citation
If the text you're quoting is longer than four lines of typed text, you need to make it into a separate paragraph. In addition, you'll need to indent this paragraph half an inch more from the rest of the text to make it stand out. Here's a sample of what it should look like. We can easily spot those allusions in his descriptions of love and longing:
Both looked back then on the wild revelry, the gaudy wealth, and the unbridled fornication as an annoyance, and they lamented that it had cost them so much of their lives to find the paradise of shared solitude. Madly in love after so many years of sterile complicity, they enjoyed the miracle of living each other as much at the table as in bed, and they grew to be so happy that even when they were two worn-out people they kept on blooming like little children and playing together like dogs. (Márquez, 112)
The important thing is you know how to insert citations and use quotations to avoid being accused of plagiarism or breaching the standardized research paper format. At the end of your research paper, you'll provide a list of all the resources you use in your annotated bibliography. If you don't know how to create one, find an annotated bibliography writing service online. Their professional writers will do the job for you.
Abbreviations: How to write in MLA Format
When writing your MLA formatted paper, it's only natural you'll want to use abbreviations and make it a bit easier on yourself. But, there are specific rules here as well that you need to follow to respect the MLA style guide. Remember to edit research papers accordingly to all rules.
Here's how to abbreviate in your MLA format research paper.
do not include periods between capital letters in abbreviations (US instead of U.S.)
you can include periods between lower case letters in abbreviations (e.g.)
use a full stop and a space between each initial in a person's name that includes a full surname (J. R. R. Tolkien)
do not use full stops or spaces between names that are entirely made up of initials (e.g. MLK)
abbreviate months longer than four letters (Jan., Feb., Mar., Apr., Aug., Sept., Oct., Nov., Dec.)
Abbreviations need to be inserted and used according to the above rules, so ensure you're not improvising any of them.
Formatting Numbers in MLA
Whether you're doing a scientific research paper or a literature project, you're bound to have numbers used all over your research paper. Formatting numbers in MLA is yet another thing you need to master to make sure your MLA formatting for research paper is top-notch.
The rules to apply include:
Avoid starting a sentence with a number (122 teachers were asked to answer the questionnaire).
Use digits when the number is preceding a unit of measurement (6 tablespoons, 4 pounds, 18 inches).
Spell out the number that can be written as one or two words (seven, seventy-six).
Use digits for longer numbers, decimals, and fractions (4½, 17.099).
These simple rules will help you with your MLA format setup, so try memorizing them all. Remember that page numbers in headers are presented as digits.
Read also: Buy reaction paper from top writing experts 24/7!
MLA 9 Updates
The latest edition of the MLA Handbook was released in April 2021. The MLA constantly works on updating, informing, and helping academic writers improve their skills. The handbook is for all of you still wondering what does MLA format look like but also for skilled writers who just want to make progress.
The latest MLA 9 edition brings updates and changes to the former version. The main updates cover these aspects of MLA writing:
the in-text citation is explained in greater detail
inclusive language is introduced
grammar mechanics are further explained
the creation of the Works Cited list is digested into details and explains each element
MLA in research papers is covered
Regardless of your current skill level or knowledge about the MLA essay format, you should make sure you're fully aware of the rules and changes that may be introduced. Therefore, always read the latest version of the MLA Handbook to stay well-informed and improve your writing skills.
Read also: No time left till deadline? Use our research proposal helper to have your task ready on time.
Final Thoughts
Writing a research paper in the MLA style means knowing all the rules and following all the instructions set by the MLA like any professional online research paper writer would do. Our ultimate guide for an MLA format teaches you everything you need to know about formatting, structure, and different elements of your MLA research paper.
Hopefully, you'll use this guide to improve your MLA writing and write better papers according to the rules we've explained.