Research Paper Format: Required Elements
Along with content and structure, research paper format continues to be the most distinctive feature. It unifies students' papers, making them look organized, and groups them according to subject. Healthcare and psychology topics, including psychology essays, usually require APA while college literature manuscripts should be formatted in MLA as a rule.
Basic Formats: How to Format a Research Paper?
Formats are needed to make all papers look the same and prevent students from using fancy styles that impede understanding. Professors want to focus on content, look at neat texts, and follow structure without difficulties and distractions so that understanding what formats exist should be done much earlier than searching how to write a conclusion for a research paper. Let's check popular styles' primary peculiarities.
APA. This acronym stands for style presented by American Psychological Association and is recommended format of research papers for use not only for students but also for scholars and their publications. Major focus is on social sciences though business and nursing classes require using this style quite often. The latest 7th edition was presented in 2019.
MLA. Current 9th edition appeared in 2021 and since then those who study humanities subjects from English classes to advanced comparative literature studies should use this style in their manuscripts. The Modern Language Association style is widely used and there is no student who did not come across this layout of research paper at least once.
Chicago. Students of Arts and History should have seen requests to format according to this style already as these subjects are strongly associated with it. When a professor asks you for a long manuscript formatted according to Chicago guidelines, do not only start searching how to start a research paper but pay enough attention to peculiarities of this style as there are two different variations: with footnotes and author-date in-text references being the most notable ones.
Harvard. This is another variation of author-date referencing system. Those who study at Australian educational institutions are especially well-acquainted with this format but it is actually widely used for a variety of subjects from social to natural sciences.
Read also: If you need help with your research paper and want to buy a research paper from experts.
Research Paper Example of Formatting Rules Basics
Majority of styles have not only peculiar differences but many similarities in general layout as well. Let's revisit basic elements in general.
Research Paper Length. Usually, instructors want to see clean white pages having page orientation and 8 1/2″ x 11″ size. In case you need everything printed, make sure that text comes on one side only.
Margin Sizes. General rules presuppose that research paper setup is on pages with 1-inch margins from all sides unless something else is mentioned specifically.
Title Pages. Here is where all styles differ substantially. MLA is the simplest among them as it does not require a title page as a rule. Only your name, instructor's name, course's name, and date should be included, all left-justified and on separate lines on top of a text. The same information appears on title pages for APA or Chicago papers but in different places. Just check official research paper samples and follow them to the letter replacing template with your own information.
Running Heads. Double click on the very top of a page will open Headers and Footers section in your Word document. This is where a running head should go along with page numbers in those papers where this element is applicable. APA 6 required shortened title as research paper headers on all pages written in capital letters. APA 7 does not require this anymore but page numbers should still be added.
Font Choices. Do not use fancy fonts. Depending on the style, standard fonts such as Times New Roman, Calibri, or Arial should be utilized and use readable font size, 12 one should do. In any case, pay attention to specific task requirements as your instructor may have a different idea about formatting.
Page Layout. Proper margins and fonts constitute a part of the proper page layout and you should also remember about paragraphs' indentation and left-justified text. Remember to remove redundant spaces between paragraphs as well. All these details will make formatting clean, neat, and unified.
Headings Formatting. If you checked any good and long research paper format example you probably noticed that writers do not just write the entire text as one very long text. It would be extremely hard to read and follow given that any university-level paper presupposes including specific sections. That is why proper structure is represented by relevant headings and subheadings: first level, second-level, and so on. Every style has specific requirements for headings that must be followed precisely. In APA research paper one can notice that first-level headings are boldface, centered, and written in title case while second-level heading is flush left instead.
Body. The text itself must look presentable and readable, therefore, there are some basic rules to follow that are the same in almost every style: left justify your text, indent paragraphs, pay attention to required spacing as it might be double-spaced or single-spaced, use one space between words, check punctuation rules, do not write the text in all capital letters. These are universal college papers format rules that will make your text look appropriate as it should be.
Reference Page Format. This section of research paper outline is where the biggest differences between formats lie. You won't confuse Works Cited page from a text that follows MLA with e References page from an APA-formatted text. Even though all the sources have the same bibliographical details that include author's name, title, journal's name, and volume or publisher, all these details are presented in a different way in every style. Many students make the same mistake and start mixing styles: they can use APA in-text references along with MLA-style Works Cited page. This issue must be avoided, please be consistent throughout the text and use only one style.
How To Use References in Research Paper Template?
You may always review manuals that explain every detail of the latest edition of the required style. Your instructors may provide guides as well as sample to follow. Another opportunity to get acquainted with all details is to hire an academic writing expert, provide them with your specific instructions or sources and receive an MLA research paper example that is relevant just for you.
Though we can simply illustrate how one and the same source can be represented differently in various styles and why you must pay attention to every detail. Let's take a scholarly journal article from a decent sample research paper that earned an A grade previously and check how this example would look like according to different formats: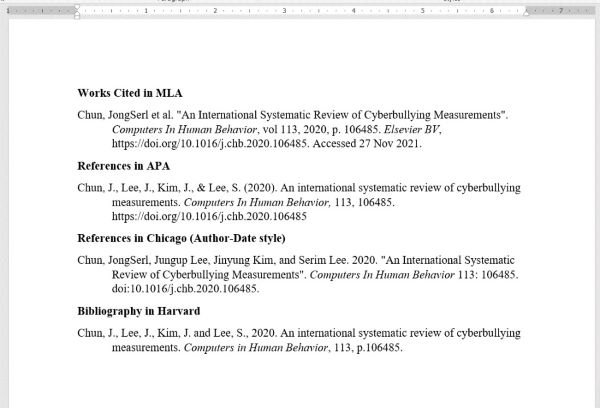 Things to pay attention to in research paper formatting include not only correct hanging indent for all entries and the location of all elements such as publication year, but also how differently authors' names are presented and what parts must be in italics or presented in quotation marks.
Corresponding in-text references to this article will be different as well. While in MLA-style you may simply insert (Chun et al. 106485) at the end of the sentence that utilizes scientific facts from this article, APA-style citation will differ: either (Chun et al., 2020) or (Chun et al., 2020, p. 106485) if you use a direct quote.
Useful information: Consider using custom research paper writing services when there is no time for conducting proper research.
Formatting is King
Writing flawless content and developing great ideas is not the only requirement that any professor would like to see their students mastering. Attention to detail and ability to be consistent with all elements in a long text is oftentimes a significant portion of a grade. That is why knowing why paper writing format is important and how to do it properly is essential for every student. And here is the last piece of advice from expert writers: do not leave formatting until the end as it is easy to omit many details. It is better to learn all rules beforehand and stick to them from rough draft stage to the final proofreading one.